---
Questions or orders:
(617) 282-1150
or (800) 841-9442
or fax us at:
(617) 282-7507
J. Freeman, Inc.
65 Tenean Street
Dorchester, MA 02122
sales@jfreemanco.net

IPS Weld-On Industrial Adhesives

Work with WELD-ON® by IPS® Corporation the Leader in Adhesive Technology

No hand mixing
Reduces fabrication time
Eliminates waste
Reduces odors
Lower volatile emissions
Bonds most plastics & metals
Consistent high strength bonds
Now you no longer need to worry about which adhesive will make the strongest, most attractive finished products. Whether your application calls far strength, weather resistance, clear seams or quick set, IPS Corporation has the right WELD ON® adhesive to fit your needs.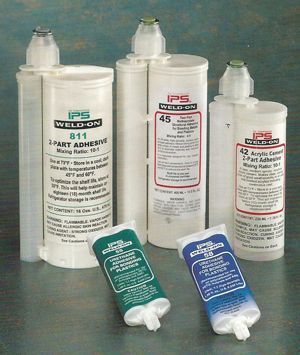 We offer the most complete line of solvent cements and adhesives for use with acrylics. vinyls, palycarbonate, PETG and other plastics, as well as with non plastic materials.
Questions? Contact us.